List of recipes using "Ice-cream":
12 recipes
List of recipes using "Ice-cream"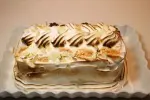 The name may be odd, but Baked Alaska is an elegant dessert. The core of this version is a "sandwich" of vanilla ice cream and blackcurrant sorbet between 2 layers of sponge soaked in rum-flavoured syrup. This is then covered in a layer of meringue and put in a very hot oven for just a few minutes...
30K
4.3
6 hours 47 min. November 12
th
2017

If you love the taste of blackcurrants (like Edith), this sorbet is for you...
229K
4.9
23 min. October 13
th
2010

This well-flavoured ice-cream is excellent on its own, or in profiteroles with a chocolate sauce for example.
488K
4.6
1 hour 34 min. February 21
th
2011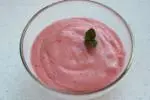 Here is a refreshing and very quick recipe (if your fruit is already prepared). In just a few seconds you can enjoy a delicious frozen cream cheese and strawberry dessert, with no need for an ice-cream maker.
37K
13 min. April 24
th
2019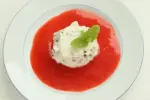 Impress your guests with this delightful dessert, a smooth mixture of meringue and dried fruit, which can easily be prepared several days beforehand.
252K
4.5
1 hour 28 min. February 21
th
2011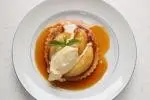 This is an elegant summer dessert: a thin base of puff pastry, topped with caramelized peach slices. For a delicious contrast of hot and cold, serve with the reduced caramel and citrus sauce poured over over hot and, at the last minute, a scoop of vanilla ice cream on top, .
34K
3.8
1 hour 15 min. September 11
th
2016

For a great pear sorbet, choose your fruit carefully: they should be perfectly ripe and full of flavour. You will get good results with williams, but any other variety of your choice will work.
308K
4
54 min. February 21
th
2011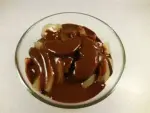 Poire Belle Hélène is a fairly simple cold dessert. The pears are poached in a vanilla-flavoured syrup, then served on top of vanilla ice cream with hot chocolate sauce poured over.
59K
4.7
1 hour 46 min. April 6
th
2014

Small choux pastry puffs, filled with vanilla ice cream and topped with a rich smooth chocolate sauce.
289K
1
4.5
1 hour 35 min. October 13
th
2010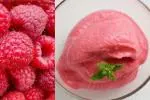 To make a seriously good raspberry sorbet, the fruit must be of the best quality, of course, but there is another little secret: you need to remove all the seeds to make a really smooth coulis. It is this smooth coulis that makes the sorbet so deliciously velvety.
29K
4.6
2 hours 20 min. July 5
th
2017

Minty confectioner's custard, diced strawberries and whipped cream.
223K
5
1 hour 30 min. February 21
th
2011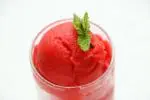 For this strawberry and mint-flavoured sorbet, we will be using an unusual method: blending the strawberries with mint leaves. This mixture is then left overnight for the flavours to mingle before being strained and then churned. This makes a delicious sorbet with its full-on strawberry flavour...
26K
3.8
12 hours 26 min. August 13
th
2017