List of recipes using "Morsels":
1 recipes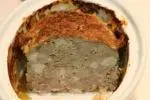 This is a rather special rabbit terrine, with some of the meat added in larger morsels to the minced mixture before cooking. These whole pieces of rabbit show when the terrine is sliced and add character, both in flavour and texture.
5,622
4.6/5 for 19 ratings 15 hours 32 min.