List of recipes using "Paste":
8 recipes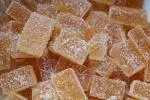 Apple paste, like most other fruit pastes, is a simple mixture of apple juice, sugar and a gelling agent - pectin here.
1,392 10 days 48 min.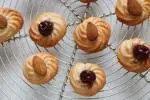 As the name suggests, these are piped into shape using a forcing bag. These dainty little macaroon-like cakes are made with marzipan and have a soft, moist texture.
2,876 1 day 32 min.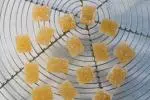 This traditional French "pâte de fruit" (fruit paste or leather) has a distinctive, firm consistency and is full of flavour, with the characteristic tang of quince. The preparation is rather long, but the result is well worth all the effort.
4,108
1/5 for 1 ratings 2 hours 3 min.

Similar to marzipan or walnut paste, coconut paste can be used in a variety of cake or sweet recipes, but you can enjoy munching it just as it is.
72,243
4.5/5 for 2 ratings 15 min.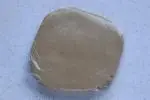 Very easy to do if you have a food processor which can slice or grate a lot of things.
97,959 3
4.5/5 for 2 ratings 11 min.

Pistachio paste has a similar texture to almond paste, but the similarity ends there, as its flavour and colour are quite characteristic.
97,992 13
3.8/5 for 6 ratings 48 min.

Very similar to marzipan (almond paste) in method, walnut paste is very tasty.
93,457 6
4.4/5 for 5 ratings 14 min.

Making marzipan decorations for cakes or desserts is fairly simple. Here are some tips to make it even easier.
57,301 2
5/5 for 1 ratings 13 min.