List of recipes using "Pollack":
3 recipes
List of recipes using "Pollack"

This pollack fillet is cooked in two stages: first pan-fried briefly to seal it and colour the outside, then baked gently in the oven in a parcel (en papillotte) on a bed of melting onions, julienne carrots and peas. This double cooking will give you a fish that's lightly crisped on the outside and...
156K
4.7
1 hour 40 min. January 23
th
2011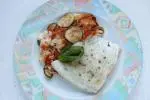 This oven-baked recipe teams layers of rice and vegetables (sesame-flavoured rice, sautéed courgettes, onions and tomatoes) with fillets of fish (pollack here) and thyme laid on top. Everything is then cooked together in the oven.
36K
4.3
1 hour 7 min. September 25
th
2016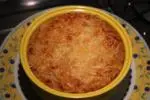 "Parmentier", in French cuisine, means topped or mixed with mashed potato. This fishy version is made with pollack (or another fish, if you prefer), poached, flaked, and mixed with cooked onions, mashed potatoes and a little thyme. This is then topped with grated cheese and browned in the oven,...
25K
4.8
56 min. October 1
st
2017