List of recipes using "Preserved tomatoes":
4 recipes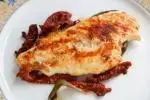 Chicken breasts pan-fried with sage leaves, topped with thinly sliced mozzarella and preserved tomatoes, then served turned over on a bed of the "toppings".
9,890
4.1/5 for 17 ratings 23 min.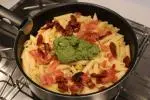 In this recipe, the pasta (whatever kind you prefer) is served with shreds of fried ham and chopped preserved tomatoes as well as a good dollop of pesto.
7,249
3.8/5 for 19 ratings 23 min.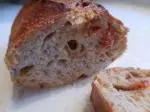 Spring bread is flavoured with little pieces of preserved tomatoes, Parmesan and chive flowers (hence the name, as the flowers only appear for a brief period in spring). Shaped into long loaves or thin sticks, slices of this bread make a delicious aperitif snack.
8,806
4.3/5 for 3 ratings 4 hours 2 min.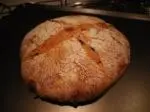 Foccacia is an open-textured Italian bread. The French sometimes refer to it as the Italian fougasse. This version is made with preserved tomatoes, green olives and parmesan.
14,027
4.3/5 for 15 ratings 4 hours 53 min.