List of recipes using "Risotto":
7 recipes

Risotto is one of the great Italian recipes. It's the special way in which rice is cooked and mixed with several other things, which produces this famous dish. One can make different flavour risottos, here is a fairly simple recipe with diced vegetables and flax seeds.
80,958 1
4.2/5 for 11 ratings 1 hour 49 min.

Risotto is one of the many delights of italian cooking... Here is a version with vegetables cooked separately, and their stock used to cook rice. Delicious, as you will see...
96,167
5/5 for 1 ratings 2 hours 53 min.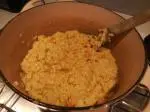 In this recipe, the prawns are fried separately first with curry powder, then added to the risotto.
15,092
3.9/5 for 12 ratings 59 min.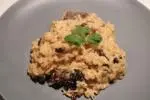 This is a rather special risotto recipe with Morel mushrooms, cooked with Jura Vin Jaune wine, and with Mont d'Or cheese added just before serving to make it extra creamy. With the trio of morels, Vin Jaune and Mont d'Or, this is an ideal way to bring together the delicious flavours of the...
5,631
3.8/5 for 12 ratings 1 hour 53 min.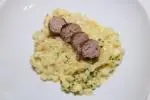 In this recipe, the celeriac is cooked rather like for a risotto: diced small, softened in olive oil with onion, then cooked in chicken stock. The dish is finished with cream and maybe a little cancoillotte (or other creamy cheese). It is delicious on its own or to accompany meat.
1,194 48 min.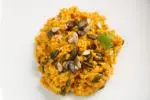 A colourful and tasty risotto made with turmeric, and pumpkin and sunflower seeds.
3,014 56 min.

This pea risotto recipe is finished with a typical Italian 'mantecare': mascarpone and Parmesan are incorporated at the end of cooking to make the dish incomparably smooth.
26,351
4.9/5 for 19 ratings 1 hour 26 min.