List of recipes using "Seafood":
6 recipes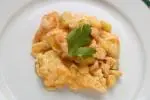 For this dish, the langoustines and asparagus tips are sautéed bafore being mixed with the beaten eggs and finished like scrambled eggs.
1,564 50 min.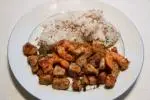 A mix of diced fish and uncooked prawns marinated with spices and then simply cooked on a plancha. The fish benefits from the acidic citrus note provided by the lime, and the prawns from a little vinegar.
4,096 1 hour 33 min.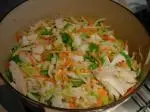 A julienne of vegetables (small sticks) mixed with choice morsels of fish, slowly cooked in vegetable stock.
83,174
4.3/5 for 11 ratings 2 hours 36 min.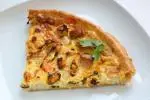 This quiche from Brittany has a puff-pastry base topped with an assortment of fish and shellfish with a classic quiche filling. After baking in a hot oven, the crusty pastry is a great foil for the moist filling with all its seafood flavours.
3,045 1 hour 40 min.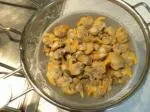 Cockles are small Atlantic shellfish which can be used in many delicious dishes. However, they need to be prepared with care before cooking. Here is a simple way to do this.
66,260 1
3.9/5 for 17 ratings 1 hour 52 min.

Paella is a traditional Spanish dish made with round rice, associated mainly with the Valencia region. The name comes from the large two-handled pan in which it is traditionally prepared. This is an adapted version with a mix of meat, vegetables and shellfish.
80,498
4.1/5 for 16 ratings 2 hours 58 min.