List of recipes using "Stripes":
4 recipes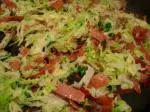 A quick recipe: cabbage julienne cooked English style, pan-fried ribbons of ham, a knob of butter and some parsley, and it's ready.
68,982 3
4.1/5 for 13 ratings 27 min.

Broccoli cooked until just tender, quickly sautéd in a little olive oil with shallot and ribbons of ham.
60,897 1
4.3/5 for 15 ratings 49 min.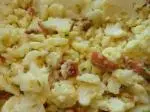 Thin slices of blanched cauliflower, fried strips of cured ham and 3 different types of cheese grated and gently melted to bind everything together.
21,169
5/5 for 19 ratings 50 min.

Chiffonade is a French term meaning "made of rags.", it consists of shredding the heart of a lettuce into thin ribbons.
64,304 1
5/5 for 3 ratings 32 min.