List of recipes using "Apricot":
10 recipes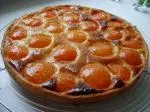 Half apricots arranged on a thin layer of almond cream.
70,670
4.1/5 for 16 ratings 1 hour 45 min.

The traditional fruit fool is a rather old-fashioned dessert, consisting of whipped cream (Chantilly) with a fruit coulis gently folded into it.
57,829
5/5 for 1 ratings 17 min.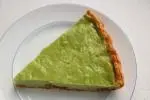 The filling of this pistachio flan with almonds and apricots contrasts with crisp case, made with puff pastry, rather than the more usual shortcrust pastry.
6,352
4.3/5 for 15 ratings 1 hour 37 min.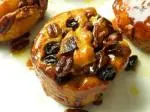 These pecan nut and dried fruit rolls, wrapped in golden caramelized puff pastry, are really delicious.
29,522
4.9/5 for 10 ratings 1 hour 21 min.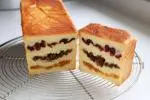 This long brioche is called a "lingot" (ingot) in French. It is filled with three layers of different fried fruits: apricots, raisins and cranberries. When sliced, the three layers are revealed - and it's every bit as delicious as it looks.
2,098 2 hours 51 min.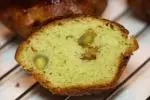 These mini brioches are made with dried apricots and have double pistachio flavour: in the dough itself, which is tinged green, and with dry-roasted pistachios added whole.
7,904
4.1/5 for 20 ratings 18 min.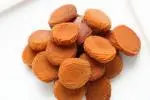 Making your own dried apricots at home is perfectly feasible. It's really quite simple, though it takes a long time. Basically, the apricots need to be cut in half, destoned, then the halves put to dry slowly for several hours in a cool oven.
9,447
4.7/5 for 12 ratings 6 hours 18 min.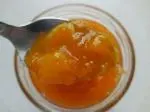 Here is how to make delicious stewed apricots, both an easy and a more sophisticated way.
214,162 12
3.7/5 for 46 ratings 1 hour 25 min.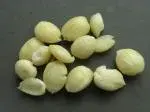 You might not think so to look at them, but apricot stones contain an edible kernel which you can use in your recipes. Here is how to extract them.
11,605
3.5/5 for 2 ratings 18 min.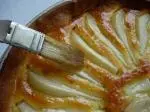 Professional pastrycooks usually say that "a beautiful cake is already half sold", it is one of the reasons why they do not put a tart on sale without glazing it ("abricoter" in Fench), i.e. coating it with a thick apricot syrup. This glaze gives a glossy finish to the tart (see the photographs...
27,773
4.7/5 for 11 ratings 7 min.