List of recipes using "Britton":
3 recipes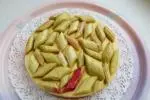 This rhubarb and apple tart is given a Breton twist with a base of traditional, butter-rich, sablé biscuit. This is topped with an apple "crémeux" filling. The finishing touch is a layer of rhubarb, cut on the diagonal and oven-poached in a syrup of its own juice.
2,111
5/5 for 1 ratings 1 hour 44 min.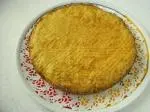 Gâteau breton is a rich cake that uses a lot of butter (from Brittany, of course) with sugar, egg yolks and a little rum to add flavour. This cake is traditionally served with coffee.
21,242
4.5/5 for 2 ratings 1 hour 10 min.

Far is a traditional recipe from Brittany in northwest France. The name comes from the Breton word 'farz' meaning flour. This is the traditional way, with prunes, but you can adapt it according to taste.
65,996 1
5/5 for 1 ratings 1 hour 10 min.