List of recipes using "Confit":
3 recipes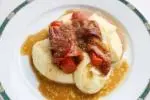 As with any confit, these carrots are cooked long and slow. This is done in the oven in chicken stock, with the carrots rolled in a strip of bacon or cured ham that has been lightly fried.
4,907
4.8/5 for 12 ratings 2 hours 32 min.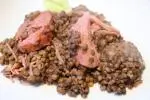 Pork belly with lentils is a typical French bistro dish. In principal, it is a mixture of different cuts of pork, usually salt-cured, cooked slowly until "confit" and meltingly tender, served with lentils cooked in stock. This dish takes a good while to prepare, but it's a real treat! It reheats...
7,896
4/5 for 18 ratings 3 hours 19 min.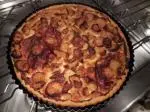 This savoury tart is full of flavour: the thin puff-pastry case is filled with lightly grilled slices of ham and a mixture of cream and Époisses cheese, topped with a layer of oven-cooked shallot confit. This tart can be eated hot, of course, but is also good cold or reheated until just warmed...
5,678
4.6/5 for 14 ratings 2 hours 25 min.