List of recipes using "Croque-monsieur":
7 recipes
List of recipes using "Croque-monsieur"

A classic of French "street food" or bistros: a slice of ham between two slices of bread spread with béchamel sauce. The sandwich is then sprinkled with cheese and toasted in the oven.
232K
4
46 min. August 1
st
2010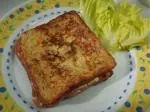 This is a "full Monty" version of the traditional French toasted sandwich: the bread is dipped in beaten egg with cream before cooking, rather like pain perdu, to make the fried bread rich and moist. The French term "complet" here means "with everything": egg, ham and cheese.
55K
1
4.1
25 min. June 14
th
2015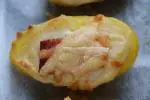 A way to revive potatoes, "croque-monsieur" style: topped with bechamel sauce, ham and cheese, then browned in the oven.
9,244
40 min. August 4
th
2021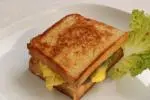 Here is an Italian version of the famous French toasted sandwich: a croque-monsieur from Genoa. The two slices of fried bread hold together scrambled egg, pesto and grated Parmesan.
32K
24 min. July 22
th
2018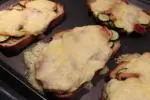 These toasted slices are topped with sautéed vegetables (courgette and mushrooms), covered with a slice of smoked ham and then slivers of cheese. Once the cheese is melted and browned in the oven, the slices should be served piping hot.
21K
4.7
58 min. July 2
nd
2017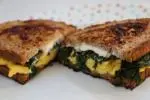 Here's a new French twist on the famous American grilled cheese. This version plays on the great combination of spinach and eggs.
8,111
36 min. August 15
th
2021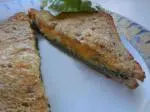 A croque-monsieur is a French toasted sandwich. Here, the 2 slices of buttered bread are filled with bechamel sauce, hard-boiled eggs, blanched spinach and melted cheese. The assembled sandwich is popped in the oven to toast the bread and melt the cheese.
47K
4.5
45 min. May 24
th
2015