List of recipes using "Flour":
9 recipes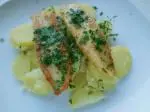 Sole "meunière" gets its name no doubt from the flour used to coat the fish ("meunière" is French for miller's wife). It is a classic of French bistro cuisine, rich with butter, basically simple, but easy to do badly. Here are all the tips you need to succeed, using fillets rather than fish on the...
15,908
4.3/5 for 15 ratings 24 min.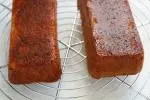 This gluten-free cake is called "amandier" in French, as it is made with ground almonds instead of flour (the same word also means almond tree). The texture is moist and the flavour is, well, almondy.
1,337 1 hour 8 min.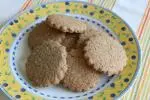 In this sweet biscuit recipe, some of the normal wheat flour is replaced with buckwheat flour and ground almonds. This gives them a very distinctive flavour.
9,818
4/5 for 2 ratings 2 hours 40 min.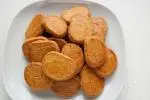 This is a surprising biscuit recipe, in which the flour is not added in its normal state, but gently toasted beforehand in the oven. This light dry-roasting changes the taste considerably, giving these biscuits notes of honey, coffee and even spices. Their distinctive flavour goes very well with...
6,598
5/5 for 1 ratings 2 hours 43 min.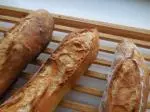 This classic of French baking is rather different from the recipe for leavened bread, it's a question of making a good crust and light crumb along the whole length. To succeed, you should know that there are two secrets: water first of all (much more than for normal bread), and the working of the...
178,181 33
5/5 for 4 ratings 5 hours 6 min.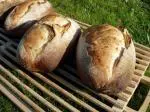 It might be harder to achieve good results than with traditional yeast bread, but what a flavour! It also keeps better.This recipe is designed for baking bread in a wood-fired oven but, of course, you can use the conventional oven in your kitchen.
208,872 2
3.9/5 for 14 ratings 6 hours 26 min.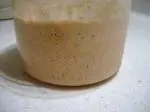 Leaven is a natural raising agent, a fermented mixture of water, flour and the microscopic yeasts which are present in the air. It's a delicate living substance, sensitive to the external environment. The recipe is around 4000 years old and dates back to the Egypt of the Pharaohs, via a beautiful...
224,262 28
4.2/5 for 32 ratings 7 days 15 min.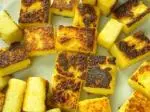 Polenta is made from maize meal and can be prepared in a number of ways. In this recipe, it is cooked in milk, then moulded and set before being fried.
21,063
5/5 for 13 ratings 1 hour 34 min.

"Dusting" in cooking is sprinkling a very fine layer of something in powder form. Icing sugar or cocoa powder on cakes for example. As this is not very easy to do evenly, here is a way to do it.
25,992
5/5 for 1 ratings 2 min.