List of recipes using "Genoa sponge":
3 recipes

This classic French patisserie is a delicious assembly of 2 layers of genoa sponge filled with strawberries and crème mousseline (confectioner's custard with butter). The sponge is soaked in strawberry syrup and the cake is topped with a thin layer of marzipan.
46,009
4.2/5 for 5 ratings 2 hours 43 min.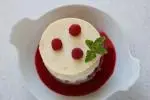 This is a classic French raspberry-flavoured dessert. It generally consists of raspberries in cream sandwiched between two layers of cake. In this version, the cake is genoa sponge and the cream is vanilla-flavoured and mixed with mascarpone. This is just as good made as a large rectangle or, as...
4,089
4/5 for 10 ratings 2 hours 38 min.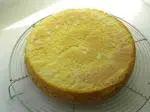 A Génoise (or Genoa sponge) is a very light and delicate cake. It is good on its own, but is more often used as the base for many different French-style gâteaux, with layers of mousse or cream between 2 (or more) layers of sponge. It is a tricky recipe to get right, rather technical, but here's a...
48,905 5
5/5 for 1 ratings 1 hour 13 min.