List of recipes using "Glass":
7 recipes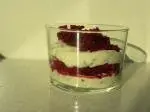 Diced beetroot, marinated in lemon juice and walnut oil, between layers of cream cheese with herbs.
25,886
5/5 for 13 ratings 2 hours 46 min.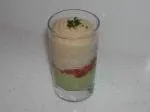 This starter recipe, served in a glass, consists of four tiers of different vegetable preparations. Each can be made the day before, and it's only the assembly that is tricky.
78,413
5/5 for 10 ratings 1 hour 36 min.

It's a recipe where you make 4 layers of different creams in a small glass: vanilla cream, small dice of pear cooked in maple syrup, chocolate mousse and whipped cream. It should be served to your guests cool but not too cold .
79,618
3.8/5 for 17 ratings 1 hour 47 min.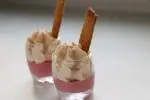 Blackcurrants and chestnuts and go together really well, as the tang of the one balances the gentle sweetness of the other. Here they are combined in a verrrine, with a blackcurrant crémeux and chestnut mousse, served with a little sablé biscuit.
603 1 hour 9 min.

A little dessert that's rather long to make, but which will always impress your guests. Layered in a glass: a jellied red fruit coulis, a layer of pineapple charlotte cream, a layer of kiwi coulis, topped with a peeled clementine segment. It's "european" because it resembles the italian flag, and in...
71,704
5/5 for 1 ratings 2 hours 29 min.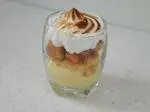 This is a new twist on the classic lemon meringue pie. All the elements are there: sweet crunchy bits, meringue and lemon custard, but presented in layers in a glass.
11,796
5/5 for 2 ratings 21 min.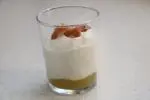 This delicious mousse is the perfect summer dessert: a delicate combination of stewed rhubarb and Italian meringue.
1,751 33 min.