List of recipes using "Kir":
4 recipes

Black Forest gateau is a sophisticated dessert which comes from Germany. It is essentially a combination of four flavours: chocolate, cherries, cream and kirsch. Here is my own version.
32,358
4.6/5 for 11 ratings 2 hours 32 min.

A shortcrust pastry case baked with pistachio cream, then topped with Griottine cherries.
61,041 2
5/5 for 1 ratings 1 hour 20 min.

A clafoutis batter and cherries lightly cooked in sugar and Kirsch, then de-stoned. The clafoutis is baked in the oven.
30,824
4.3/5 for 15 ratings 1 hour 17 min.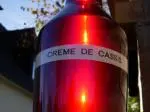 The fruit liqueurs (or "creams" in French) are a mix of neutral alcohol in which fruits are macerated, and sugar syrup. They are the basis of the very famous "Kir", mixture of dry white wine and blackcurrant liqueur. This recipe is for blackcurrant, but it can be made with other soft fruits like...
124,173 4
4.7/5 for 3 ratings 51 min.