List of recipes using "Meats":
7 recipes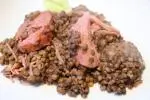 Pork belly with lentils is a typical French bistro dish. In principal, it is a mixture of different cuts of pork, usually salt-cured, cooked slowly until "confit" and meltingly tender, served with lentils cooked in stock. This dish takes a good while to prepare, but it's a real treat! It reheats...
7,746
4/5 for 18 ratings 3 hours 19 min.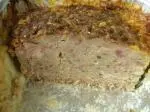 Here is a personal version of the famous country pâté. It's an interesting recipe to prepare in large quantities because it keeps well and freezes easily. The secret of a good pâté is of course the ingredients, but also how it is cooked.
112,172 2
3.7/5 for 3 ratings 7 hours 54 min.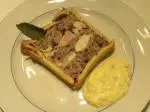 The French classic "Paté en croute" is a terrine of different meats layered and baked in a pie crust. There are many recipes which vary the kind of meat and the seasonings. This is my version with pork, veal and chicken, which is not too difficult, though it does entail quite a lot of work.
50,744 13
4.3/5 for 15 ratings 6 hours 49 min.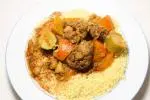 In couscous, the meat and vegetable mixture is rather long to cook, but not difficult. And the couscous itself (a kind of coarse semolina) is simple and quick to prepare.
87,226
4.3/5 for 4 ratings 2 hours 36 min.

If you like slow-cooked dishes prepared with loving care (mitonné), you will certainly love this hotpot recipe, with the taste of Franche-Comté, inspired by my grandmother. It's an old-fashioned dish full of flavours and aromas, cooked vegetables, stock, smoked sausages, all cooked long and slow.
70,597
5/5 for 1 ratings 4 hours 7 min.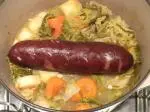 This sausage casserole is a simple mix of vegetables with smoked sausage, but the cooking liquid in this case is dry white wine (and hence the name). The casserole is cooked long and slow in the oven with a lid. This allows all the flavours of the vegetables, wine and sausage to mingle harmoniously.
3,423 2 hours 36 min.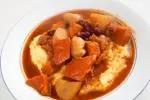 This hotpot inspired by a stay in Taos (New Mexico) is a mix of different meat and vegetables cooked long and slow, served with polenta. The preparation is rather long, as is the cooking time, but it reheats very well.
3,687 3 hours 14 min.