List of recipes using "Morteau sausage":
3 recipes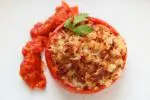 These stuffed tomatoes are a bit special: the stuffing is made with Morteau sausage, onions, rice and cancoilotte cheese.
5,632
4.1/5 for 16 ratings 1 hour 36 min.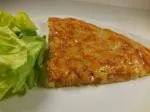 This tart has all the flavour of the Franche-Comté: the puff-pastry base is covered with diced Morteau sausage and fried potatoes. This is topped with cancoillotte cheese - totally delicious!
13,731
4.2/5 for 12 ratings 1 hour 49 min.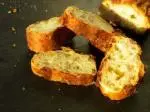 Thin baguettes made with Morteau sausage and cancoillotte cheese. The cancoillotte is added in the form of crumbled metton curds (normally melted in milk to make the creamy cancoillotte). Sliced thinly, these sticks make an ideal aperitif snack for sharing with friends.
25,589
4/5 for 2 ratings 5 hours 27 min.