List of recipes using "Pink":
4 recipes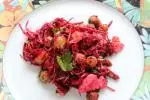 A raw beetroot salad, enriched with toasted almonds, diced fried chicken and potatoes. As beetroot tends to colour everything it touches, you can be sure that your diced chicken will be an unusual but attractive bright pink - children love this!
31K
4.2
39 min. October 16
th
2016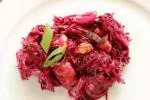 This pink — almost hot pink — salad gets its colour from the raw beetroot, teamed here with toasted cashew nuts and fried croutons.
20K
5
32 min. July 29
th
2018

Salmon with sorrel is the perfect mix with tender salmon and the slight acidity of sorrel.
268K
1
5
1 hour 23 min. October 13
th
2010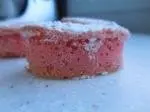 These biscuits are a speciality of Reims. They have a light texture, rather like finger biscuits, and are traditionally rectangular and coloured pink.
77K
3.8
46 min. February 12
th
2014