List of recipes using "Raspberries":
6 recipes

A small chocolate cake, still runny in the middle, served with a raspberry coulis.
90,093
5/5 for 12 ratings 1 hour 21 min.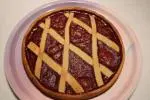 Linzer torte, or tart from Linz (Austria), has a cinnamon-flavoured crust filled with raspberry jam. The special and rather crumbly sweet pastry used for the case is made with cinnamon, ground almonds and the yolks of hard-boiled eggs. There are many different versions. In this rather unusual one,...
6,603
4.7/5 for 11 ratings 1 hour 5 min.

Peach Melba is a famous dessert created in 1893 by an equally famous chef, Auguste Escoffier, and inspired by the singer Nellie Melba.There have been many versions of this well-known dish but, in principal, it consists of vanilla ice cream, poached peaches, raspberry coulis and sweetened whipped...
29,459
3.9/5 for 20 ratings 2 hours 20 min.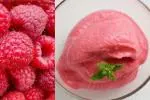 To make a seriously good raspberry sorbet, the fruit must be of the best quality, of course, but there is another little secret: you need to remove all the seeds to make a really smooth coulis. It is this smooth coulis that makes the sorbet so deliciously velvety.
5,997
4.6/5 for 15 ratings 2 hours 20 min.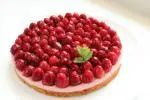 This gorgeous and delicious rasperry tart is not just any old fruit tart: the base is made with "sablé breton" dough, topped with a raspberry crémeux and a layer of whole fresh raspberries, finished with a glaze. It's a bit more complicated than a normal tart, but the result is well worth the...
4,558
5/5 for 1 ratings 1 hour 41 min.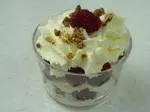 Cranachan is a traditional Scottish dessert made with whipped cream, raspberries, rolled oats and whisky. In this recipe, the oats are made into a nougatine before being incorporated into the cream.
20,033 1
4.1/5 for 16 ratings 42 min.