List of recipes using "Relish":
3 recipes

Herb salad is a small salad made with leaves of all kinds of aromatic herbs, it's highly flavoured, and should be considered almost as a condiment. It really is a salad, the leaves are not chopped.
69,597
4.6/5 for 14 ratings 22 min.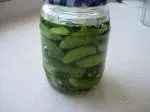 Preparing your own gherkins in vinegar is quite straightforward, if you know how to avoid a few pitfalls. Here's a recipe which works every time.
95,123 7
3.1/5 for 11 ratings 4 hours 36 min.

This dressing is a kind of mayonnaise with vinegar, used for some salads like celeriac rémoulade. Usually it is prepared from mayonnaise, but here is another version, simpler and just as tasty.
102,138
3.9/5 for 17 ratings 6 min.