List of recipes using "Sabayon":
10 recipes
List of recipes using "Sabayon"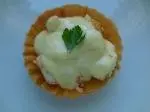 For this recipe, the tart cases are made with sheets of filo pastry. These are filled with langoustines coated in a delicious lime-flavoured sabayon.
54K
3.8
1 hour 6 min. July 2
nd
2014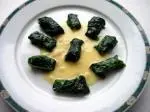 These parcels are made with small pieces of fish fillet, wrapped in a blanched spinach leaf and lightly fried in butter. They can be served with a salted white wine sabayon (as in the recipe of scallops with crunchy vegetables), a beurre blanc, a dash of olive oil with herbs, or any other sauce of...
218K
5
2 hours 23 min. March 18
th
2013

For this dish only the green part of the chard is used. The blanched leaves are rolled around grilled salmon portions. The rolls are served coated with a savoury lemon sabayon, or the sauce of your choice.
149K
3.8
1 hour 21 min. August 8
th
2010

This is a bed of vegetables cut small, lightly cooked to stay crunchy. The scallops are cut in half and fried, filled with a morsel of foie gras, and served coated with a savoury reduced white wine sabayon. It entails some work, but the result is impresive.
286K
4
2 hours 56 min. June 11
th
2011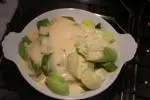 For this very simple recipe, steamed leeks (cooked in 2 stages) are served with a sabayon made with mushroom "jus", preferably from morels. The sabayon is the major taste element in this dish, and adds a delicious woodland-mushroom flavour.
23K
4.1
37 min. June 11
th
2017

Fresh grapefruit and / or pears, covered with a sabayon and a pinch of citrus crunch.
267K
4.7
55 min. February 21
th
2011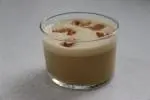 A delicious combination of flavours: coffee with rum, the first in a cream, the second in a sabayon, with the added crunch of a few toasted almonds.
2,433
49 min. June 29
th
2022

This recipe is made by briefly cooking an assortment of soft fruits (raspberries, blackcurrants, blackberries, blueberries, currants...) with a little sugar to glaze them. They are served in a small dish, covered with a delicious sabayon which can be lightly "burned" on surface.
244K
3.9
46 min. February 21
th
2011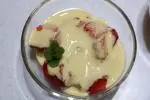 This is a very simple recipe, but the result is absolutely delicious (as long as it's strawberry season, of course): morsels of really ripe strawberries in a sabayon made with sweet white wine.
9,827
24 min. August 19
th
2020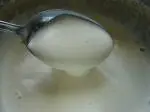 A sabayon is a delicious and delicate preparation based on egg yolks and sugar, with a liquid added (wine, alcohol, fruit juice, etc), which is then whipped in a bain-marie until it is both light and smooth. Usually sabayon is sweet (syllabub), but you can make it savoury, in which case there is...
879K
5
4
18 min. November 12
th
2017