List of recipes using "Smoked ham":
3 recipes

Pieces of white fish rolled in thinly sliced smoked ham. These rolls are cooked in a little olive oil and served with French beans. The pairing of smoked ham with fish might seem a little strange, but in fact these flavours marry well.
86,298
4.9/5 for 18 ratings 54 min.

This is a kind of small crusty parcel with flax seeds, filled with a mix of red rice, diced courgette and smoked ham.
69,313
4/5 for 11 ratings 2 hours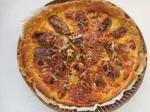 This thin tart (made with puff pastry) is a sort of quiche. It is fairly light, with smoked ham and endives fried from raw (not blanched first).
8,151
4.9/5 for 18 ratings 58 min.