List of recipes using "Smoked salmon":
5 recipes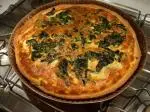 This quiche recipe uses a traditional filling mixture, but adds slices of smoked salmon and blanched spinach.
108,685 1
4/5 for 10 ratings 1 hour 16 min.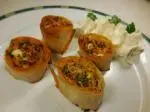 This recipe is for rolls of brik or filo pastry with a filling of smoked salmon, eggs, herbs and mustard. These are cut into sections before being cooked in the oven.
11,278
4.1/5 for 16 ratings 48 min.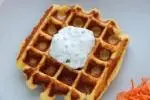 For potato waffles, the flour in the mixture for the sweet version is replaced with instant dried potato. This is a way of making delicious savoury waffles. Adding ribbons of smoked salmon, like here, turns them into a proper meal, though they can be also be served as an accompaniment.
8,157
4.5/5 for 11 ratings 39 min.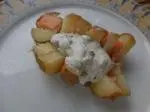 This is a very simple recipe with a delicious result: potatoes, smoked salmon and a herb sauce.
10,119
5/5 for 13 ratings 36 min.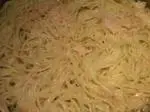 After cooking the spaghetti as usual, strips of smoked salmon are added with cream, lemon, Parmesan and egg yolks.
64,336
3.8/5 for 12 ratings 37 min.