List of recipes using "Strawberries":
9 recipes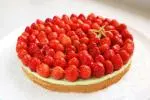 Strawberries and verbena go well together. In this recipe they are combined as a verbena crémeux with whole fresh strawberries on a Breton sablé base.
1,206 1 hour 47 min.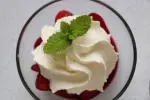 Serving strawberries in red wine is a classic French dessert. Here is a more sophisticated version, with the red wine reduced to a light syrup with notes of thyme and lemon.
1,546 1 hour 23 min.

Minty confectioner's custard, diced strawberries and whipped cream.
75,959
5/5 for 13 ratings 1 hour 30 min.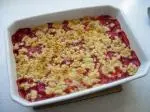 A three-layer crumble: a layer of stewed rhubarb, then strawberries and a crumble topping. You'll see that the flavour of rhubarb goes very well with strawberries.
42,001
5/5 for 13 ratings 1 hour 40 min.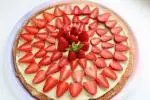 This elegant French dessert is not quite a tart. The base is a circle of puff pastry baked and caramelized, then topped when cold with a thin layer of lime-flavoured confectioner's custard and beautiful fresh strawberries.
4,912
3.8/5 for 11 ratings 43 min.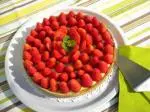 For this great dessert classic: a sweetcrust pastry case, vanilla confectioner's custard and the best strawberries available. This recipe is simple yet demanding, but the result is an exceptional tart.
26,466
4.6/5 for 14 ratings 2 hours 30 min.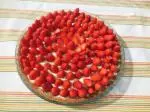 This tart has a crisp sweetcrust pastry case filled with verveine-flavoured cream and, of course, strawberries.
11,674
3.8/5 for 17 ratings 1 hour 31 min.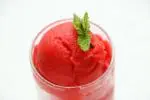 For this strawberry and mint-flavoured sorbet, we will be using an unusual method: blending the strawberries with mint leaves. This mixture is then left overnight for the flavours to mingle before being strained and then churned. This makes a delicious sorbet with its full-on strawberry flavour...
4,154
3.8/5 for 19 ratings 12 hours 26 min.

When using strawberries in a recipe, the usual way is to soak in water, which is actually a very bad idea. Just look at how to preserve them here.
41,820
3.7/5 for 3 ratings 10 min.