List of recipes using "Strawberry":
6 recipes

Behind this strange name there lurks a delicious traditional English dessert made of meringues, strawberries and cream.
54,008
5/5 for 13 ratings 4 hours 55 min.

This classic French patisserie is a delicious assembly of 2 layers of genoa sponge filled with strawberries and crème mousseline (confectioner's custard with butter). The sponge is soaked in strawberry syrup and the cake is topped with a thin layer of marzipan.
47,471
4.2/5 for 5 ratings 2 hours 43 min.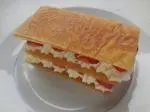 A millefeuille (which in french means "thousand sheets") is a delicious pâtisserie consisting of layers of puff or flaky pastry (pâte feuilletée) sandwiched together with cream, fruit, etc. In this recipe, we will be using sheets of caramelized brik or filo, which makes a delicious, light...
11,497
5/5 for 1 ratings 48 min.

This is a faily quick charlotte recipe. It begins, as usual, by soaking finger biscuits in syrup, in this case flavoured with lime. The charlotte is then assembled with alternate layers of Chantilly (whipped cream) and strawberries.
32,419
5/5 for 13 ratings 3 hours 9 min.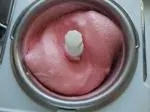 The secret of a good strawberry sorbet is to use first class strawberries, very ripe and full of flavour, so do choose them with care. This recipe shows you how to lighten the texture of the sorbet by incorporating air.
12,705
4.6/5 for 14 ratings 31 min.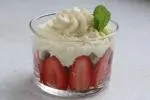 Chopped kiwi with lemon, ripe strawberries and smooth mascarpone cream.
7,961
5/5 for 13 ratings 22 min.