List of recipes using "Stuffed":
6 recipes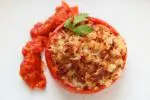 These stuffed tomatoes are a bit special: the stuffing is made with Morteau sausage, onions, rice and cancoilotte cheese.
5,640
4.1/5 for 16 ratings 1 hour 36 min.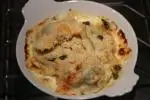 The filling for these ravioli is a delicious mixture of ricotta with cooked spinach, egg and lightly toasted pine nuts. The ravioli are first boiled in salted water, then baked gratin-style with cream, Parmesan and sage.
7,131
4.8/5 for 18 ratings 1 hour 12 min.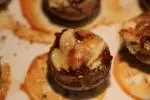 In this recipe, the mushrooms are stuffed with caramelized onions, topped with cheese and cooked in the oven. As mushrooms tend to give off a lot of liquid, especially when very fresh, the cooking is done in two stages.
7,363
4.1/5 for 16 ratings 57 min.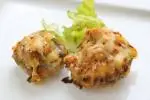 For this fairly sophisitcated recipe, the mushrooms caps are marinated and pre-cooked in the oven. They are then filled with a delicious mix of potatoes, sausage and cheese before being baked gratin-style.
1,482 1 hour 12 min.

These were originally a traditional German treat (Berliner Pfannkuchen in German): big fried doughnuts filled with jam and sprinkled with icing sugar.
39,670
4.5/5 for 6 ratings 4 hours 23 min.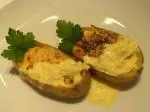 This recipe, originally from Belgium, consists of baked potatoes which are hollowed out and filled with fried prawns. A cream and white wine sauce is then poured over the potatoes before returning them to the oven.
30,002
3.8/5 for 12 ratings 1 hour 49 min.