List of recipes using "Beef":
11 recipes
List of recipes using "Beef"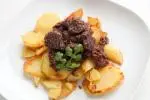 In classic recipes of this kind, the meat is simply cooked in the wine as it comes. This version is different: the red wine is reduced first separately on low heat with herbs, onion and carrot, then the meat is cooked long and slow in this. This method gives the meat a richer, more intense flavour.
31K
3.8
3 hours 53 min. March 12
th
2017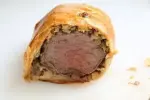 Beef Wellington consists of a beef fillet (or tenderloin) that is first seared, then cooked in the oven in a puff pastry crust stuffed with a mushroom duxelles and morsels of foie gras. The recipe is rather long, but fairly straightfoward. Here I show you all the tips to help you make it sucessfully...
81K
5
1 hour 57 min. August 26
th
2021

Bœuf bourguignon is a traditional recipe of French cuisine (bourguignon means from Burgundy). It's chunks of meat cooked slowly with bacon, onions, carrots and mushrooms in red wine.
439K
3
2.5
4 hours 20 min. February 21
th
2011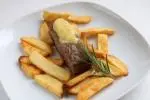 This is a sophisticated way to cook beef fillet (tenderloin): we make an unleavened bread dough (which will not be eaten), adding plenty of salt and lots of roughly chopped springs of rosemary. The beef fillet is seared all over in a frying pan, then wrapped in the dough before being cooked in a hot...
37K
1
4.8
50 min. August 26
th
2021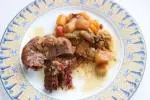 In this recipe a good joint of beef is slow-cooked, surrounded by an assortment of vegetables in small chunks. To concentrate the flavours, the cooking time should be long at a moderate temperature and, most important of all, the dish should be sealed. By the end of cooking, the vegetables will be...
47K
4.1
5 hours 28 min. December 30
th
2019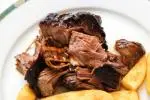 For this delicious roast, the beef joint is seared all over, then wrapped in slices of grilled (broiled) bacon before the final long, slow roasting in a bag with aromatic ingredients (bayleaf, shallots, carrot, thyme and chilli). Cooked this way, the meat will be well done on the outside, meltingly...
39K
4.5
5 hours 39 min. July 30
th
2017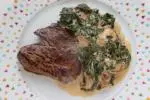 Tenderloin steaks pan-fried with rosemary, served with beetroot tops and mushroom duxelles in a cream sauce.
476
28 min. May 15
th
2022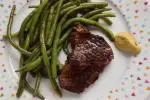 A recipe that brings out all the tenderness of this cut of beef, enhancing it with rosemary and by marinating for a long time in red wine. The tenderloin steaks are then fried and served with green beans.
6,149
12 hours 34 min. September 19
th
2021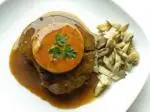 Tournedos Rossini is a very chic recipe, allegedly inspired by the famous composer. It consists of fried fillet steak, served on buttered toast, topped with a slice of foie gras and a delicious sauce made by deglazing the cooking pan with port or Noilly Prat.
306K
3
3.7
46 min. August 26
th
2021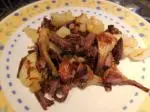 This dish combines artichokes, sautéed with shallot in olive oil, with cooked beef and potatoes (simply heated through).
53K
4.1
46 min. October 15
th
2014

Rather like the classic hachis Parmentier, but using oxtail stewed very slowly in red wine and herbs.
286K
4.7
5 hours 46 min. October 13
th
2010