List of recipes using "Beef":
9 recipes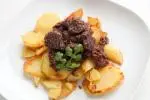 In classic recipes of this kind, the meat is simply cooked in the wine as it comes. This version is different: the red wine is reduced first separately on low heat with herbs, onion and carrot, then the meat is cooked long and slow in this. This method gives the meat a richer, more intense flavour.
4,767
3.8/5 for 17 ratings 3 hours 53 min.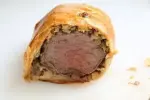 Beef Wellington consists of a beef fillet (or tenderloin) that is first seared, then cooked in the oven in a puff pastry crust stuffed with a mushroom duxelles and morsels of foie gras. The recipe is rather long, but fairly straightfoward. Here I show you all the tips to help you make it sucessfully...
8,473
5/5 for 1 ratings 1 hour 57 min.

Bœuf bourguignon is a traditional recipe of French cuisine (bourguignon means from Burgundy). It's chunks of meat cooked slowly with bacon, onions, carrots and mushrooms in red wine.
107,960 3
2.5/5 for 2 ratings 4 hours 20 min.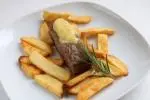 This is a sophisticated way to cook beef fillet (tenderloin): we make an unleavened bread dough (which will not be eaten), adding plenty of salt and lots of roughly chopped springs of rosemary. The beef fillet is seared all over in a frying pan, then wrapped in the dough before being cooked in a hot...
6,368 1
4.8/5 for 12 ratings 50 min.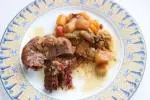 In this recipe a good joint of beef is slow-cooked, surrounded by an assortment of vegetables in small chunks. To concentrate the flavours, the cooking time should be long at a moderate temperature and, most important of all, the dish should be sealed. By the end of cooking, the vegetables will be...
5,558
4.1/5 for 16 ratings 5 hours 28 min.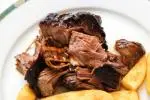 For this delicious roast, the beef joint is seared all over, then wrapped in slices of grilled (broiled) bacon before the final long, slow roasting in a bag with aromatic ingredients (bayleaf, shallots, carrot, thyme and chilli). Cooked this way, the meat will be well done on the outside, meltingly...
5,046
4.5/5 for 12 ratings 5 hours 39 min.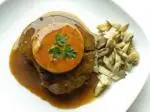 Tournedos Rossini is a very chic recipe, allegedly inspired by the famous composer. It consists of fried fillet steak, served on buttered toast, topped with a slice of foie gras and a delicious sauce made by deglazing the cooking pan with port or Noilly Prat.
36,307 3
3.7/5 for 19 ratings 46 min.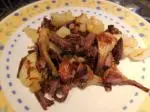 This dish combines artichokes, sautéed with shallot in olive oil, with cooked beef and potatoes (simply heated through).
10,987
4.1/5 for 16 ratings 46 min.

Rather like the classic hachis Parmentier, but using oxtail stewed very slowly in red wine and herbs.
108,610
4.7/5 for 12 ratings 5 hours 46 min.