List of recipes using "Candied fruits":
4 recipes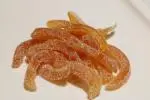 Not really a dessert, more a kind of sweet. After soakiing, strips of grapefruit skin are cooked very slowly to conservethem in sugar. It's a real treat with coffee at the end of a meal.
82,324 1
4/5 for 2 ratings 1 day 1 hour 21 min.

A very thin disc of chocolate, topped with toasted nuts and candied grapefruit peel.
83,981
4/5 for 19 ratings 2 hours 22 min.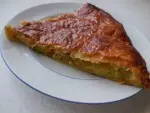 This is a Sicilian version of the French Epiphany dessert, the "galette des rois". The puff pastry has a pistachio cream and ricotta filling with diced candied fruit.
12,256
3/5 for 2 ratings 1 hour 1 min.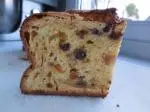 Panettone is a brioche-style Italian loaf, made with dried fruit (raisins and candied peel) and flavoured with left-over citrus fruit. The recipe is a bit complicated but, above all, it takes time, a great deal of time...
18,066
5/5 for 14 ratings 1 day 1 hour 19 min.