List of recipes using "Coriander":
3 recipes
List of recipes using "Coriander"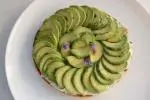 The French "tarte fine" (pronounced "feen") is a literally a thin tart, made on a precooked flat base of puff pastry. This delicious, crisp, savoury tart is topped with cream cheese, slices of avocado, a trickle of lime juice and fresh coriander.
13K
59 min. July 15
th
2020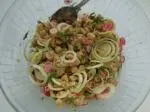 This quick salad includes chickpeas, of course, but with spring onions, radishes and chopped coriander, too.
48K
4.7
14 min. May 28
th
2014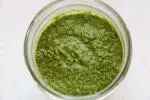 You are probably familiar with the classic pesto,made with basil and pine nuts. I'd like to tempt you with a rather different (but quite delicious) version, made with coriander and cashew nuts.
24K
26 min. December 9
th
2018