List of recipes using "Dried fruits":
4 recipes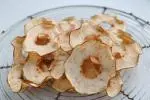 This is a really simple recipe - there's really not much to do, other than wait while the crisps (or chips for Americans) cook gently in the oven.
3,223
4.5/5 for 18 ratings 2 hours 8 min.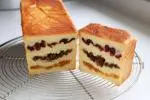 This long brioche is called a "lingot" (ingot) in French. It is filled with three layers of different fried fruits: apricots, raisins and cranberries. When sliced, the three layers are revealed - and it's every bit as delicious as it looks.
1,457 2 hours 51 min.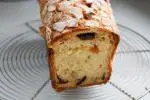 Brioche royale is a very rich brioche, made with candied fruit, toasted hazelnuts and chocolate chips. Just before baking, it is topped with "macaronade": a macaroon-style mixture of ground almonds and sugar with egg white. This creates a crust when baked and gives the brioche its elegant finish.
1,133 16 hours 47 min.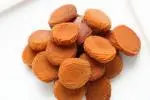 Making your own dried apricots at home is perfectly feasible. It's really quite simple, though it takes a long time. Basically, the apricots need to be cut in half, destoned, then the halves put to dry slowly for several hours in a cool oven.
5,939
4.7/5 for 12 ratings 6 hours 18 min.