List of recipes using "Duck":
1 recipes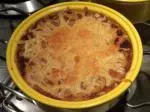 This recipe is very simple to make as everything can be prepared in advance. A layer of duck meat is sandwiched between two layers of potato purée. This is topped with grated cheese before being put in the oven.
23,230
3.9/5 for 12 ratings 51 min.