List of recipes using "Escoffier":
3 recipes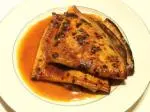 Crêpes Suzette are pancakes filled with orange-flavoured butter (butter and sugar mixed with Grand Marnier), caramelized in a pan and soaked in orange-flavoured syrup. This is an modified version of the recipe invented by Auguste Escoffier.
35,357
4.1/5 for 10 ratings 48 min.

Peach Melba is a famous dessert created in 1893 by an equally famous chef, Auguste Escoffier, and inspired by the singer Nellie Melba.There have been many versions of this well-known dish but, in principal, it consists of vanilla ice cream, poached peaches, raspberry coulis and sweetened whipped...
28,582
3.9/5 for 20 ratings 2 hours 20 min.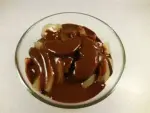 Poire Belle Hélène is a fairly simple cold dessert. The pears are poached in a vanilla-flavoured syrup, then served on top of vanilla ice cream with hot chocolate sauce poured over.
12,707
4.7/5 for 19 ratings 1 hour 46 min.