List of recipes using "Feta cheese":
6 recipes
List of recipes using "Feta cheese"

Fried rounds of courgette in a puff pastry case with a feta and mint filling. You will find that this combination of feta with mint gives an agreeable fresh lift to this tart.
133K
4.1
1 hour 23 min. June 11
th
2011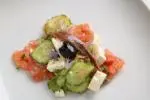 The port of Souda in Crete is the inspiration for this colourful salad, combining cucumber and tomatoes with feta cheese. This salad is best served cold from the fridge, perfect for a hot summer's day.
16K
58 min. July 7
th
2019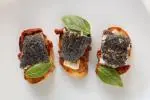 Tasty morsels of red mullet, fried with poppy seeds and served as canapés on toast with feta, basil and preserved tomatoes.
30K
4.2
45 min. July 13
th
2016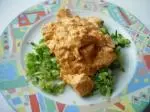 Cooked chopped leek and shallot with cubes of salmon, served in a yogurt, tomato and feta sauce.
151K
5
1 hour 1 min. February 8
th
2020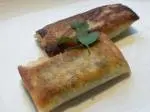 Crispy brik parcels, filled with a mixture of spinach, feta and chopped shallot.
91K
5
43 min. May 5
th
2013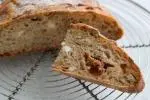 This Cretan (or Cretan-style) bread has a soft dough, enriched with olive oil, preserved tomatoes, green olives and cooked onions.
50K
4.3
4 hours 26 min. October 24
th
2017