List of recipes using "Granny":
2 recipes
List of recipes using "Granny"

If you like slow-cooked dishes prepared with loving care (mitonné), you will certainly love this hotpot recipe, with the taste of Franche-Comté, inspired by my grandmother. It's an old-fashioned dish full of flavours and aromas, cooked vegetables, stock, smoked sausages, all cooked long and slow.
285K
5
4 hours 7 min. February 21
th
2011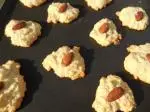 These biscuits are very simple to make and delicious with tea or coffee. They are easy enough for children to enjoy making them.
43K
4.1
44 min. November 12
th
2014