List of recipes using "Grape":
12 recipes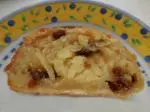 Apple strudel is a traditional pastry from central Europe. It is like a large apple turnover, usually served in slices. Here is a version with apples, walnuts, almonds and rum-soaked raisins.
9,248
5/5 for 2 ratings 1 hour 32 min.

Cold grapefruit quarters with slices of hot caramelized pineapple, lime custard (crème anglaise) and citrus crunch.
92,896
4.6/5 for 14 ratings 2 hours 5 min.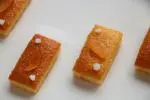 The french love their "moelleux" — moist fondant cakes, often with a melting centre. These little mini-moelleux are flavoured with grapefruit. The grapefruit flavour is brought out fully by using a combination of juice, zest and candied peel.
1,186
5/5 for 1 ratings 1 hour 7 min.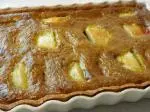 A sweetcrust pastry case filled with pistachio cream, topped with pear and grapefruit slices.
19,261
4.3/5 for 15 ratings 1 hour 37 min.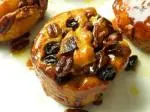 These pecan nut and dried fruit rolls, wrapped in golden caramelized puff pastry, are really delicious.
27,917
4.9/5 for 10 ratings 1 hour 21 min.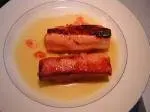 Stewed apples, raisins soaked in whisky, toasted almonds, rolled in a lightly caramelized pancake.
71,283
4.3/5 for 15 ratings 2 hours 16 min.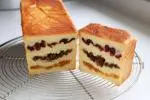 This long brioche is called a "lingot" (ingot) in French. It is filled with three layers of different fried fruits: apricots, raisins and cranberries. When sliced, the three layers are revealed - and it's every bit as delicious as it looks.
1,553 2 hours 51 min.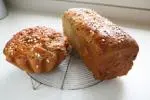 Cramique is a kind of brioche from Belgium and northern France, made with raisins and pearl (or nib) sugar. It is traditionally served sliced with butter and jam.
3,800 13 hours 55 min.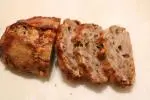 This speciality bread is full of all the character of the Jura: dry white wine (made with Savagnin grapes, of course), diced Comté cheese and toasted walnuts."Jurassic bread" was is first name... The loaves can be made long, as shown here, or as small rolls. This is ideal as an aperitif snack,...
4,104
4.4/5 for 12 ratings 6 hours 9 min.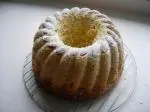 This recipe is emblematic of Alsatian baking, but a more personal version (and a bit richer).
75,739
4.3/5 for 15 ratings 3 hours 15 min.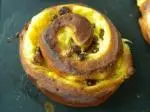 This classic French "viennoiserie" is a sweet bun containing confectioner's custard (crème pâtissière) and rum-soaked raisins. It demands a bit of skill, but is not too complicated.
28,100
4.8/5 for 20 ratings 2 hours 37 min.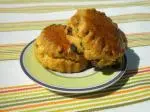 Scones originated in Britain and Ireland. The Irish version is often made plain and traditionally served with tea. Scones are more of a bread than a cake, eaten split in half and spread with butter or jam, for example. There are also sweeter versions and scones with dried fruit, like the ones I have...
34,302
4.1/5 for 19 ratings 48 min.