List of recipes using "Heart":
3 recipes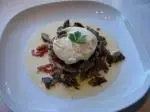 This recipe is not very complicated, but does involve some work: an artichoke heart with a layer of mushroom duxelle, a layer of fried bacon, topped with a poached egg and cream sauce. Everything can be prepared in advance (the day before for example), but the final assembly should be done just...
78,401
5/5 for 1 ratings 2 hours 11 min.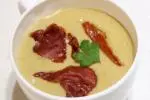 The method for this rustic winter soup is anything but typical: the sprouts are first roasted in the oven, before being mixed with the leeks (pre-cooked with onions) and simmered in chicken stock. Served with morsels of crispy ham, the full-on flavour is sure to hit the mark.
124 1 hour 29 min.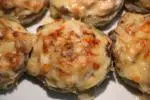 For this recipe we'll attempt to use the whole of the artichoke: the heart, of course, but also the leaf bases in bechamel sauce with mushrooms and shallots, as a tasty filling for the hearts.
4,859
5/5 for 13 ratings 1 hour 33 min.