List of recipes using "Lettuce":
3 recipes
List of recipes using "Lettuce"

Corn salad (or lamb's lettuce) leaves mixed with chopped hard-boiled eggs, mushrooms, spring onions, butter-fried croutons, and - of course - a good vinaigrette dressing.
98K
5
54 min. April 8
th
2012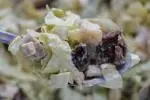 This salad takes its inspiration from the famous Caesar salad, but is simpler. The combination of chicken with croutons is a delicious way to use up leftovers.
6,568
32 min. February 10
th
2021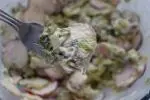 This spring salad makes the most of the season's big radishes, balancing their crunch with the soft texture of avocado, in a rémoulade dressing.
4,940
29 min. June 16
th
2021