List of recipes using "Mexico":
10 recipes
List of recipes using "Mexico"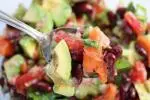 This Mexican-inspired salad combines red kidney beans with avocado, chopped onions and tomatoes. It is dressed with olive oil, lime and a touch of Tabasco heat.
50K
5
28 min. October 9
th
2019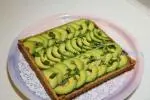 This unusual tart features two star ingredients of South American cuisine: red kidney beans and avocado. The shortcrust pastry case is filled with a red bean and onion purée, then topped with sliced avocado dressed with lime and garnished with fresh coriander.
35K
1 hour 17 min. December 30
th
2019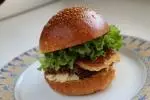 Time for a fresh take on burgers with this Mexican-inspired version. The beef patty is pepped up with chilli spices and partnered with a plainer patty made with red kidney beans.
11K
1 hour 2 min. May 12
th
2021

This is a really express recipe, a "true" chilli is longer and more difficult to do.
365K
3.8
33 min. February 21
th
2011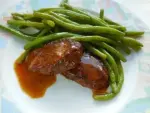 For this recipe with a Mexican flavour (New Mexican, actually), I have used tender medallions of pork fillet mignon. These are first marinated in a spicy oil then pan-fried with the remaining marinade. Serve with green beans and sauce made with a reduced vegetable stock in the frying pan.
45K
5
44 min. November 6
th
2016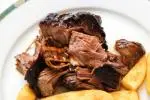 For this delicious roast, the beef joint is seared all over, then wrapped in slices of grilled (broiled) bacon before the final long, slow roasting in a bag with aromatic ingredients (bayleaf, shallots, carrot, thyme and chilli). Cooked this way, the meat will be well done on the outside, meltingly...
40K
4.5
5 hours 39 min. July 30
th
2017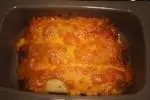 Enchiladas are tortillas (cornmeal pancakes), filled with a pre-cooked filling, then topped with grated cheese and browned in the oven.
27K
1 hour 41 min. May 8
th
2019

Ceviche is typical of South American cuisine, made with avocados, tomatoes and fish fillet cured in lime juice. This is a personal version of Mexican-style ceviche.
329K
1
5
3 hours 9 min. October 13
th
2010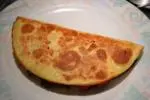 Here's a recipe for tortillas with a simple, pre-cooked vegetable filling, made from Japanese chestnut pumpkin (potimarron), onion and red kidney beans.
8,346
56 min. April 4
th
2021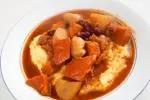 This hotpot inspired by a stay in Taos (New Mexico) is a mix of different meat and vegetables cooked long and slow, served with polenta. The preparation is rather long, as is the cooking time, but it reheats very well.
24K
3 hours 14 min. January 10
th
2018