List of recipes using "Mont d\'or cheese":
6 recipes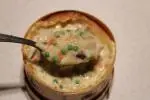 The classic hot box method is a delicious way to serve Mont d'Or cheese. For a more original twist, this recipe adds mixed vegetables. The cheese is baked in the oven as usual, but filled with the diced vegetables and mushrooms.
4,429
3.8/5 for 17 ratings 58 min.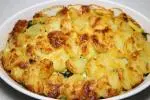 This is a gratin with a difference: before going in the oven, the layers of spinach and potato are topped with cream in which Mont d'Or cheese has been melted (or another cheese, if you prefer).
4,240 1 hour 5 min.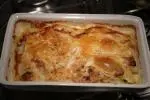 This gratin has layers of potatoes and sautéed endives, topped with Mont d'Or cheese and browned in the oven.
6,687
5/5 for 2 ratings 58 min.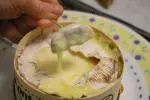 You may already have come across the Mont d'Or hot box recipe, where the cheese is baked in the oven then poured over potatoes. Here's a version with a twist: crispy ham-wrapped potato wedges to dip in the box of melted cheese.
699 1 hour 45 min.

The duchess potatoes are poached in a roll before being sliced and fried. They are served in alternate layers with slices of sausage, also cooked in two stages (boiled then fried), then topped with a fondue of Mont d'Or cheese.
67,588
3.9/5 for 11 ratings 2 hours 13 min.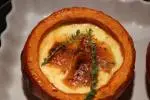 The small squash used here is the Japanese chestnut pumpkin or "potimarron". For this gratin, we scrape out the seeds and fill the centre with a mixture of three sorts of cheese and cream, then bake it in the oven until the pumpkin flesh is soft. Served straight from the oven like this, it is good...
7,716
4.1/5 for 16 ratings 53 min.