List of recipes using "Orange":
9 recipes

This is a chocolate cream with chopped candied grapefruit peel and caramelized nuts added to give bit of crunch. The small pot of cream is topped with an Irish coffee mousse (flavours of coffee, fresh cream, sugar and whisky).
232K
1
5
59 min. March 11
th
2011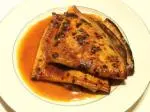 Crêpes Suzette are pancakes filled with orange-flavoured butter (butter and sugar mixed with Grand Marnier), caramelized in a pan and soaked in orange-flavoured syrup. This is an modified version of the recipe invented by Auguste Escoffier.
114K
4.1
48 min. February 28
th
2013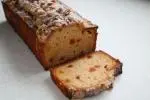 A very elegant cake topped with a sprinkling of hazelnut crumble, and with a double helping of orange flavour from chopped candied peel and the orange syrup soaked into the cake after cooking. The recipe is rather sophisticated, inspired by those used by pastry cooks at the INBP. It is a bit...
23K
5
2 hours 15 min. January 23
th
2019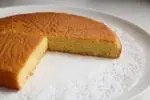 The "colombier" (dove cake) is a traditional cake for Pentecost from the south of France, flavoured with orange and almonds. This very moist cake is quite dense as it is made with marzipan (almond paste). It can be eaten on its own or as a dessert, with or without ice cream.
25K
5
1 hour 6 min. December 30
th
2019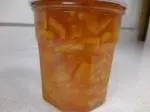 Just oranges (organic) and sugar in this simplified marmalade recipe.
120K
3.9
1 hour 11 min. February 26
th
2014

Pear halves sautéed in butter and sugar served with real custard (crème anglaise) and a reduced blood-orange syrup.
129K
3.7
1 hour 4 min. February 20
th
2011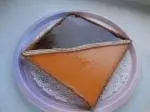 This tart, with its twinned chocolate and orange flavours, is a bit fiddly to make. The fillings are fairly straightforward (classic chocolate ganache and orange curd), but it is tricky to ensure that the fillings do not run into each other. You will need to make a divider but, as you will see, this...
40K
5
2 hours 35 min. April 15
th
2015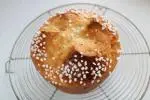 Mouna is a delicious citrus-flavoured brioche from the Oran region of Algeria. It origins are much disputed, but it was no doubt inspired by a brioche brought over by Spanish immigrants from the Valencia region: the "Mona de Pascua". However, it is also amusing to remember that the citizens of Oran...
31K
1
18 hours 31 min. May 22
th
2019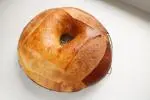 Pogne de Romans is a kind of brioche lightly flavoured with orange and rum. It originated in Romans-sur-Isère, a town in south-east France. This recipe dates back to medieval times, when it was made in a ring (or crown) shape to celebrate the end of Lent, as eggs could then be used again. This more...
39K
4.7
1 day 17 hours 38 min. October 7
th
2018