List of recipes using "Pork belly":
2 recipes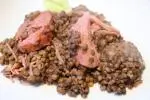 Pork belly with lentils is a typical French bistro dish. In principal, it is a mixture of different cuts of pork, usually salt-cured, cooked slowly until "confit" and meltingly tender, served with lentils cooked in stock. This dish takes a good while to prepare, but it's a real treat! It reheats...
7,706
4/5 for 18 ratings 3 hours 19 min.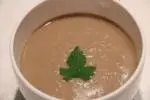 If you have made cured pork belly with lentils, you will no doubt have some of the stock left from cooking the meat and lentils. This will be full of flavour, so can be turned into a quick and delicious soup. Here's how to do it.
6,182
4.1/5 for 16 ratings 35 min.