List of recipes using "Prawn":
7 recipes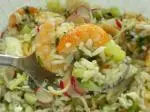 This salad combines contrasting crunchy ingredients (radish, cucumber, gherkins, onions) with the softer textures of cold rice and tomatoes. The oven-roasted prawns are addded hot. The salad is brought together with herbs and a vinaigrette dressing.
22,755
3.9/5 for 12 ratings 1 hour 51 min.

These look like perfectly normal boiled eggs, but when the shell is cracked open - surprise! They contain a mixture of scrambled egg, cured ham, fried prawns and chives.
48,093
5/5 for 13 ratings 51 min.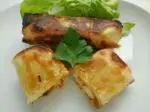 The prawns are fried, then mixed with finely diced carrots and courgettes before being rolled up in a sheet of brik or filo pastry.
13,400
4.8/5 for 12 ratings 34 min.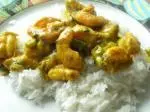 A very quick way to prepare a creamy prawn curry with lime and spring onion.
25,654
5/5 for 1 ratings 34 min.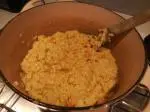 In this recipe, the prawns are fried separately first with curry powder, then added to the risotto.
15,089
3.9/5 for 12 ratings 59 min.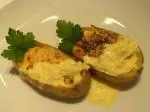 This recipe, originally from Belgium, consists of baked potatoes which are hollowed out and filled with fried prawns. A cream and white wine sauce is then poured over the potatoes before returning them to the oven.
30,003
3.8/5 for 12 ratings 1 hour 49 min.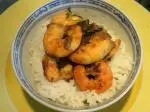 In this recipe, the prawns are first lightly fried, then spiced up with a piquant sauce.
23,844
4.3/5 for 15 ratings 54 min.