List of recipes using "Radish":
8 recipes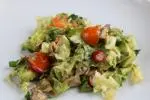 A delicious salad of radishes, tomato, avocado and chicken.
6,789
5/5 for 19 ratings 32 min.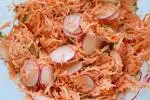 Quick and straightforward, this fresh, crunchy salad is ideal for early spring.
411 16 min.

Little verrines filled with a mixture of cottage cheese (fromage blanc), cream and coriander with diced radish, gherkin and shallot.
35,082 2
4.8/5 for 12 ratings 41 min.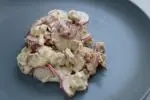 This salad combines the crunch of finely sliced radishes with tender cubes of chicken. The tang which lifts the flavour comes from fresh herbs and the dressing of lemon mayonnaise.
3,713
5/5 for 13 ratings 21 min.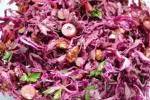 This salad has a lovely crunch to it: not just the red cabbage, but also from thinly sliced radishes and toasted almonds.
1,657 28 min.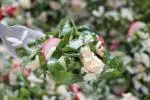 Spinach is usually eaten cooked. Though seen less often, it can also be eaten raw, like in this salad where it is combined with rice, crunchy radishes and tinned tuna.
1,083 27 min.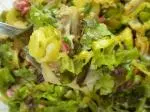 This salad combines ratte potatoes, lettuce, radishes and chicken with a herb dressing.
20,480
3.9/5 for 18 ratings 1 hour 3 min.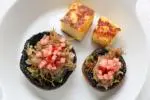 In this recipe, the mushroom caps are first sautéed, then filled with fried onions and a spoonful of rillettes, then baked in the oven. Here they are served with a quick pickle made from brunoise radishes with tarragon.
3,919
3.8/5 for 17 ratings 58 min.