List of recipes using "Raisin":
4 recipes
List of recipes using "Raisin"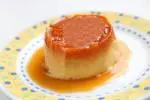 Semolina pudding, like rice pudding, is a throwback to another era – time to rediscover its delights! This is an updated version, with a caramel sauce and raisins. Its smooth, creamy texture comes from the custard added towards the end.
23K
48 min. December 30
th
2020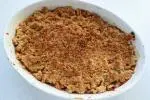 You are no doubt familiar with fruit crumble, the home-cooking classic. Here's how they do it in the the Austrian Tyrol region: with apples, raisins and rolled oats.
6,604
1 hour 26 min. October 31
th
2021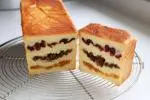 This long brioche is called a "lingot" (ingot) in French. It is filled with three layers of different fried fruits: apricots, raisins and cranberries. When sliced, the three layers are revealed - and it's every bit as delicious as it looks.
25K
2 hours 51 min. September 23
th
2018

Used straight from the packet raisins are too dry and hard.
220K
4.1
36 min. February 21
th
2011