List of recipes using "Snack":
5 recipes
List of recipes using "Snack"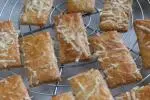 For an ideal aperitif snack, why not try these delicious savoury biscuits made with cashew nuts and Parmesan?
5,282
1 hour 55 min. March 31
th
2021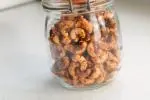 Toasting cashews greatly improves both their flavour and texture over the plain raw nuts. This is also the ideal opportunity to spice them up a little, like in this very simple recipe.
12K
29 min. September 20
th
2020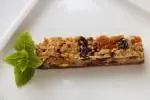 These have a chocolate sweetcrust pastry base, topped with dried fruit, toasted nuts and seeds, bound with a brown-sugar and butter mixture, then gently baked. Once the flapjack-like cake has cooled, it can be cut into bars.
14K
1 hour 18 min. July 11
th
2018

This is a quick tomato sauce, just the thing for dipping crisps (chips, if you are American), or nachos. It is very similar to the sauce served with aperitif snacks in Tex-Mex restaurants.
90K
4.1
42 min. September 20
th
2012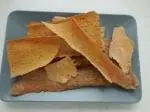 Papadums (pronounced "poppadoms") or papad are very thin, crisp Indian crackers. They are often served as an aperitif snack in Indian restaurants. The tricky part of making them at home is rolling them out thinly enough.
62K
4.6
22 min. June 26
th
2014