List of recipes using "Sweetcrust pastry":
2 recipes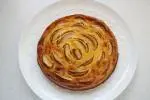 This tart from France's Alsace region has a sweet pastry (or sweetcrust) case, filled with raw apple slices and a light vanilla egg-custard mixture, then baked.
5,839 54 min.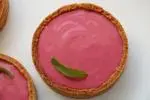 These little tarts taste every bit as good as they look. The sweetcrust pastry cases are filled with a layer of stewed apple and topped with a blackcurrant crémeux. This offers your guests a delightful element of surprise, as the apple flavour is only discovered as they eat it (but only if you've...
669 2 hours 8 min.