List of recipes using "Tatin":
6 recipes

A savoury shortcrust pastry with Parmesan is used to cover tomatoes cooked in two stages, first in the pan, then in the oven. As for a classic tart tatin, the whole thing is then turned upside down.
126K
4.8
2 hours 35 min. December 5
th
2010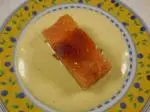 Imagine a sweet terrine, made of layers of apples with sugar, cooked slowly in the oven until caramelized. Serve warm in slices with custard.
56K
4.1
3 hours 28 min. December 14
th
2014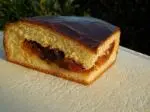 For this filled brioche, the apples are cooked separately, as for a tart tatin (caramelized), then sandwiched between two circles of brioche dough.
59K
3.7
3 hours 21 min. September 10
th
2018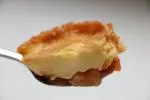 You may well be familiar with the famous French custard tart, with its creamy vanilla egg-custard filling. It can also be made in individual portions, in ramekins, for example. Here is a delicious version with caramelized pears.
32K
2 1 hour 22 min. December 4
th
2019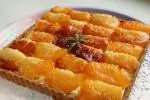 This tart is every bit as good as it looks: a sweetcrust pastry case baked blind, then filled with diplomat cream and topped with apples cooked tatin-style, long and slow in butter and sugar until they caramelize.
21K
2 hours 18 min. November 20
th
2019

Small pieces of apple cooked "tatin" style (caramelized in a pan) with a light mascarpone cream.
157K
4.3
1 hour 3 min. November 20
th
2011