List of recipes using "Turnip":
4 recipes

The whole turnip goes into this recipe, in which ramekins are filled with both the root vegetable and its leaves.
93,892
4.4/5 for 9 ratings 57 min.

For this quick soup, 15 minutes, an original turnip taste with sesame purée (tahina).
82,742
4.3/5 for 19 ratings 35 min.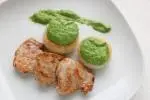 This recipe brings together sautéed medallions of pork filet mignon and turnips, pan-fried then filled with a creamy mixture made from their own green tops. As in all the best cookery, nothing is wasted.
6,268
4.7/5 for 10 ratings 1 hour 4 min.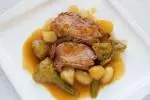 Pork goes particularly well with sage (true for white meats in general), but in this recipe, we'll bring out these flavours to the full by slow-cooking in a bag. The pork roasting joint is simply salted and peppered before being put in the bag and cooked for hours at low temperature. The delicious...
4,873
4.6/5 for 19 ratings 3 hours 56 min.