List of recipes using "Vanilla cream":
4 recipes

This classic French patisserie is a delicious assembly of 2 layers of genoa sponge filled with strawberries and crème mousseline (confectioner's custard with butter). The sponge is soaked in strawberry syrup and the cake is topped with a thin layer of marzipan.
46,593
4.2/5 for 5 ratings 2 hours 43 min.

Millefeuille is one of the best pastries available, if it is well made, i.e.: 2 layers of light vanilla cream between 3 layers of fine crispy (possibly caramelized) puff pastry.
87,135
4.6/5 for 5 ratings 1 hour 42 min.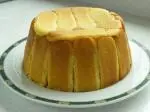 A charlotte filled with pear mousse (made with whipped cream and pear coulis).
28,654
4.1/5 for 18 ratings 13 hours 59 min.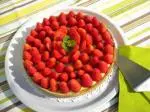 For this great dessert classic: a sweetcrust pastry case, vanilla confectioner's custard and the best strawberries available. This recipe is simple yet demanding, but the result is an exceptional tart.
26,909
4.6/5 for 14 ratings 2 hours 30 min.